You visit your doctor, and they write you a prescription for a brand-name medication. You take the prescription to the pharmacist, and they tell you there's a generic version of the drug available. Which one should you choose? In many cases, the generic may be the better choice. But not 100% of the time. 
Do generic drugs work the same way as brand-name drugs?
Some people hear "generic" and think of generic cereals that taste funny or get soggy too soon. They often don't stack up against the original and are usually considered "knock-offs." Generic drugs are different. 
Generics are made to work the same way as brand-name drugs. They have the same active ingredient and are the same as brand-name medications when it comes to:
Quality
Dosage (how much and how often you take it)
Strength
Route of administration (how you take it)
For example, amphetamine salt combo is the generic version of Adderall, a medication used to treat attention deficit hyperactivity disorder. These 2 prescription drugs are available in the same strengths, are prescribed in the same quantities, and have the same instructions for how to take them. The same is true for metformin, the generic version of Glucophage, a drug used to treat type 2 diabetes.
Are generic drugs less effective?
No. Generic medications are just as effective as brand-name drugs. According to the FDA, drug makers must prove that generic medications can be substituted for brand-name drugs and offer the same benefits as their brand-name counterparts.
In other words, in many cases, you can swap a generic drug for a brand-name one and get the same effect—unlike those generic Frosted Flakes.
Why do brand-name drugs cost more than generics?
There are a few reasons for this.
First, the manufacturers of brand-name medications have to conduct tests, known as clinical trials, to prove that their drug is safe and works the way it's supposed to. These tests are expensive, and manufacturers pass on some of these costs to the consumer.
Second, while a brand-name drug is only sold by one manufacturer, several companies will usually sell the same generic drug, which leads to competition in the marketplace and lower costs for consumers.
How much cheaper are generic drugs?
Generic medications typically cost about 80% to 85% less than the same brand-name drug. According to 1 study, generic drugs saved the U.S. healthcare system $1.67 trillion from 2007 to 2016.
How do I tell them apart?
If you're worried about picking up the wrong prescription, you can relax. Telling the difference between a generic and a brand-name drug isn't too hard.
Due to trademark laws, generic and brand-name medications cannot look the same. In many cases, the name of the generic drug will be the same as the active ingredient, such as omeprazole (the generic version of Prilosec, a medication used to treat gastroesophageal reflux disease, or GERD). 
The generic and brand versions may differ on:
Shape
Color
Packaging
Flavorings
Inactive ingredients
However, these differences don't mean a generic drug is any less effective or works differently than a brand-name one.
Don't miss out on savings! Get the best ways to save on your prescriptions delivered to your inbox. 
Are generic drugs safe?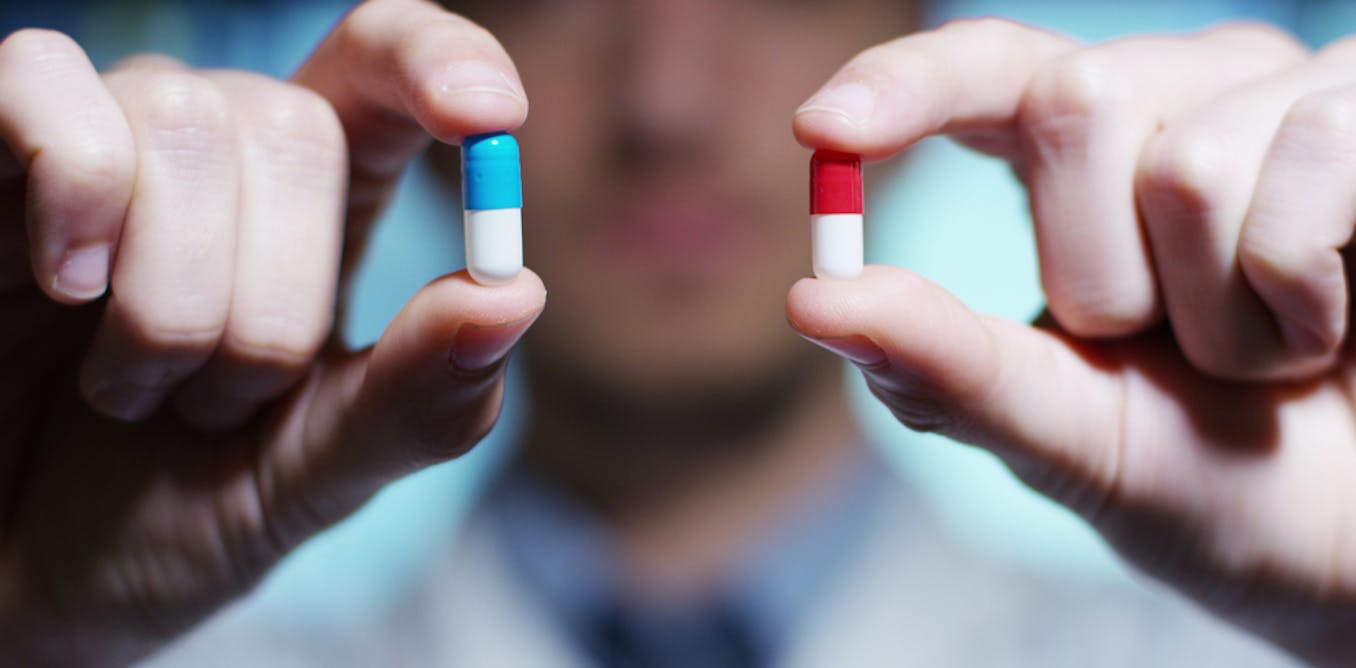 Yes. Generic drugs are heavily regulated and go through a rigorous review process before they're approved.
The FDA tests them to make sure they offer the same benefits as brand-name medications and that any different ingredients used in the generic drug are safe. They will also test how sturdy the drug's container is, how long an unused drug will last before it breaks down, and whether the drug's manufacturer can consistently and correctly make the drug. The FDA will only approve the drug if it meets all these requirements for safety.
After the medication is approved, the FDA will routinely inspect the manufacturing plant where the drug is made and monitor the drug for any safety concerns. If people taking a generic have bad reactions or side effects, the FDA will investigate, and the manufacturer may have to change how it makes the drug or how it's used.
Are there times when I should choose a brand-name drug over a generic?
A generic drug may sound like an obvious choice when it comes to deciding which version of a medication to take—after all, it's cheaper and does the exact same thing.
But there are some cases where you should stay on a brand-name medication or use it over a generic one:
When there's no generic version available. Some medications, like Premarin (which is used to treat hot flashes and prevent osteoporosis), don't have a generic version available. And there may never be a generic for it because we don't know what's in it. Even if a brand doesn't have a generic, talk to your doctor if you can't afford your medication. They may recommend programs to help you save or prescribe you a cheaper alternative.
When you take a narrow therapeutic index drug. These are drugs where small differences in the dose or blood concentration of the medication can lead to serious reactions. One study found that patients who switched from brand to generic antiepileptic drugs had more side effects and increased costs from physician visits. Other drugs in this category include blood thinners, lithium, and thyroid medications. With these types of medications, if your doctor initially prescribes you the brand, you'll want to stick to the brand. And if they prescribe you the generic, you'll want to stick to the generic. Switching between versions can be risky.
When you don't do as well on the generic. Very rarely, people respond poorly when they switch to a generic. For example, they may absorb it differently due to how the tablet is made. The same study above found that a small number of people's symptoms got worse after they switched from Celexa, a drug used to treat depression, to citalopram, the generic version. Check with your doctor if you suspect any side effects after switching to a generic.
How do I get my insurance to pay for a brand-name drug over a generic?
Your insurance company will often prefer that you use a generic over a brand-name medication. But what should you do if your doctor recommends that you take a brand-name?
Under some plans, you can choose the brand-name drug. You will simply pay more. For example, if you have a Blue Cross Blue Shield Plan and you choose the brand-name drug, you will likely have to pay the copay for the generic drug plus the cost difference between the brand-name and generic drug.
In other cases, you may have to go through step therapy before your insurance company will cover the brand-name medication. You will usually need to try less expensive alternatives before your insurance will cover the brand name. If you try these other drugs and your company still denies coverage, you can ask your doctor to help you file an appeal or see if your doctor can prescribe an alternative medication that doesn't require step therapy. More on step therapy here.
You can also ask your doctor to write to the insurance company and request that the brand-name drug be added to the company's preferred drug list, which includes drugs that have the best coverage. You doctor will need to demonstrate the drug's effectiveness through peer-reviewed studies.
Finally, see if there's a manufacturer copay card for the medication. These cards help people with private insurance save on brand medications. If you don't have insurance, find out if the medication has a patient assistance program. These programs help people who meet certain requirements to afford medications at a reduced cost.
To see if these programs exist for your brand drug, visit goodrx.com or use the GoodRx mobile app, search for your medication, and scroll down the page to see prices and savings tips.
– – –
If you'd like to find out whether there's a generic version of your drug available, talk to your doctor or pharmacist. The FDA also has information on how to track down generic versions of drugs here.